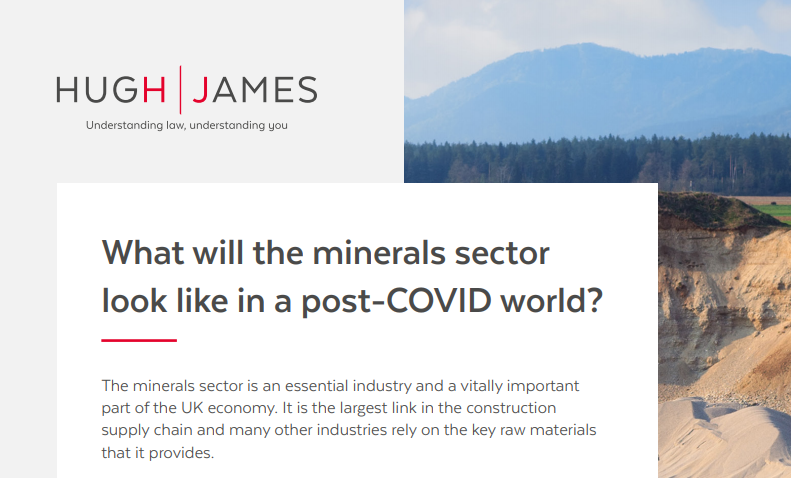 The minerals sector is an essential industry and a vitally important part of the UK economy. It is the largest link in the construction supply chain and many other industries rely on the key raw materials that it provides.
The impact of the current Coronavirus crisis is of real concern to the industries that rely on the minerals sector and its ability to recover will be of huge significance to the UK's economy. Our minerals specialist, Richard Pike, recently met up (virtually) with Peter Andrew, Group Director of Hills Quarry Products Limited (HQPL), to discuss how the crisis has impacted on HQPL's operations and on how he sees the next 12 months unfolding. HQPL, which is based in Swindon, is also keeping a close eye on events in Wales, Scotland and Northern Ireland as the lockdown restrictions are eased in varying degrees across the UK.
In this report, they discuss key questions, such as:
What has been the impact of the Coronavirus on HQPL's operations so far?
What operational/strategic measures has HQPL put in place to try to mitigate the impact of the current crisis?
What measures would you like to see offered by the government to help thesector at the current time?
What do you see as being viable 'exit strategies' for the sector and how quickly do you think/hope it will take to recover?
Is the government's promise of delivering large scale national infrastructure projects, such as HS2, a potential light at the end of the tunnel?
Where do you think HQPL will be in 12 months time?
What is your reaction to the Prime Minister's announcement on easing lockdowns?