We want to applaud our colleagues who are taking part in the Long Course Weekend Wales "Powered By" Hugh James event which kicks off this weekend in Pembrokeshire.
As proud sponsors of the event, we're delighted some of our colleagues have signed up to take part in the various contests, the half marathon, bike races or swim races.
Two Hugh James participants in particular are a duo to be reckoned with after swimming together since they were both only seven years old.
Rebecca Murray and Molly Thackeray, teammates in the Trusts and Estates Administration department here at Hugh James, are tackling the swimming course at the LCW, having competed across Europe in National teams together throughout their childhood.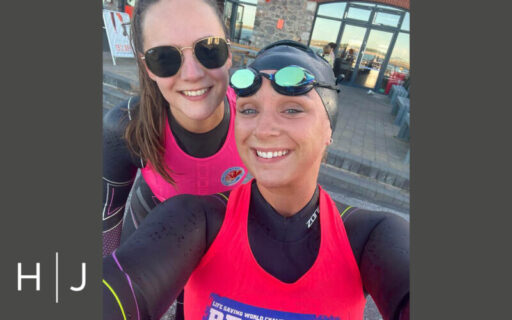 The close friends and colleagues were keen to compete in this challenge together when the opportunity arose through the firm. The pair have been swimming together since a young age as part of the lifeguards who hold competitions incorporating lots of different events on the beach and in the sea, including a lot of open water swimming.
More recently, Rebecca has become a member of a triathlon club, who will all be there on the day, either taking part or supporting everyone.
Speaking about the upcoming event, Rebecca Paralegal in the Trusts and Estates Administration team, said:

"The longer distance of this event falls within some longer-term goals I have for triathlon. I regularly sea swim but I have only completed the distance in training, never competition."
Now the lighter nights and warmer weather has arrived, both Rebecca and Molly have been able to train outdoors, swimming in the sea rather than in the pool in readiness for the event.
The LCW Wales is a competition they had wanted to take part in for some time but had missed out on signing up originally, so they are both feeling excited as the big day approaches. Molly added: "Us both having such similar sporting interests is huge motivation."
It's great to see our staff get involved in the challenge and we're proud to support their wellbeing through sport. Our partnership not only supports our colleagues taking part in the sporting event this weekend but also the LCW community Legacy Programme. This project has helped hundreds of children in the area with extra swimming coaches in lessons, sports days and provided bikes in local primary schools.
The Legacy Programme has been providing vital assistance to local sporting, community and educational groups in the past few years, so we're really pleased to be able to support such a great cause that impacts the wider community by getting children into sport; just like Rebecca and Molly did when they were younger.
We previously heard from other Hugh James colleagues who have signed up to take part in the various events – the half marathon, bike races or swim races – and some brave participants will compete in more than just one event.
Good luck to the swimming duo and everyone else participating from Hugh James!