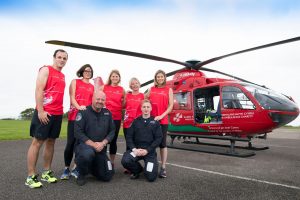 After months of training and fundraising, a team from the claimant division of Hugh James successfully ran in the Cardiff ½ Marathon in aid of Wales Air Ambulance on Sunday 1 October 2017.
We chose to raise money for Wales Air Ambulance as it is an essential component of the emergency services in Wales and yet it is completely dependent upon charitable donations to fund its services. Many of our clients have been helped by Wales Air Ambulances following accidents which cause serious injury and they are extremely grateful for the assistance they received.
The team consisted of Cari Sowden-Taylor (Partner in Neurolaw representing clients with brain and spinal injuries), Mari Rosser ( Partner  in Clinical Negligence), Tomos Lewis ( Solicitor in Environmental Law), Rebecca Mather ( Solicitor in Clinical Negligence), and Marta Gawryszczak ( Paralegal in Clinical Negligence). All five runners completed the 13.1 mile route which started at Cardiff Castle, took in the sites of Cardiff Bay and Roath Park and then finished in Cathays Park. Rebecca and Marta were featured at the start of the BBC1 television coverage and Mari Rosser was also seen trying to overtake the South Wales Fire and Rescue Service at the finish line! Samantha McGuire (Case Worker in Clinical Negligence), who had trained for the event was disappointed not to be able to run after breaking her toe a few days before the race!
Commenting after the race, Cari Sowden-Taylor said, "We wanted to support this very worthwhile charity and in the process we have made new friends, both within Hugh James and at Wales Air Ambulance. We didn't really know each other before we agreed to raise money for Wales Air Ambulance, but through fundraising (including a bake off), discussing training and visiting the helipad in Cardiff, not to mention the race day itself, we have formed new friendships and it has also been great to get to know the fundraising team at Wales Air Ambulance. Catrin Hall of Wales Air Ambulance has been extremely supportive and organised for us to visit one of the helicopters and meet pilots, James and Jayson, who showed us around the helicopter and spent time explaining how the service operates; the afternoon was truly inspiring."
"We are delighted to have raised £1,700 which will fund one helicopter mission and hopefully save one person's life or help a family in their hour of need. We would like to thank all our sponsors for their generous support".
Although the race has taken place, you can still sponsor the team by visiting Cari's Just Giving page.