Today (12 December) we confirmed that we will be moving our headquarters to Central Square in Cardiff city centre in the late summer of 2018. The deal is the largest office deal in Wales this year.
We will be relocating to 100,000 sq ft of office space at Number Two Central Square, adjacent to the new BBC Wales Headquarters.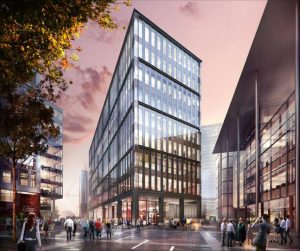 The announcement follows significant growth at our firm including the addition of commercial law firm MLM Cartwright which saw us form the largest corporate, commercial and property legal team in Wales.
In September, we acquired boutique commercial property law firm in London, Claremont Richards, growing our presence in the capital. Strategic senior appointments this year have included 20 promotions taking our total employee number to more than 700.
Matthew Tossell, lead partner of the Hugh James team said: "This has been a much-anticipated deal for us and we are extremely excited about our future as part of Cardiff's burgeoning business district. Our office move comes at an exciting time for the firm as we continue our growth strategy to reinforce our position as one of the UK's most successful regional law firms."
The new, high-specification building has been designed by world-leading architect Foster + Partners who also designed the master plan for the Square. The new office space will accommodate our Cardiff-based staff from Hugh James and those from Involegal LLP.
The move will support the company's continued growth ambitions in the heart of the capital and will provide colleagues with the best possible working environment.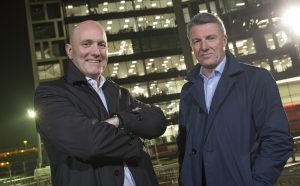 Alun Jones, Managing Partner said: "Our move to Central Square is an integral part of our firm's strategy to recruit and retain the very best talent available so we can continue to offer the best possible service to our clients.
"One of our key requirements in our move was to find a location that will enable us to bring together our staff with their various specialisms in a cutting-edge, modern space to encourage effective working between departments.
"Hugh James is a long established law firm in South Wales and we have worked with an extensive range of businesses and organisations across a range of sectors, many of whom are major employers and play a significant part in the growing prosperity of Cardiff and the surrounding area. Central Square is a key part of the city's ongoing regeneration and growth so it feels like a natural home for us."
The Central Square development is being undertaken by local property developer Rightacres.
Chief executive Paul McCarthy said: "We were aware that Hugh James was in the market for a new headquarters building and made them an approach just over a year ago.
"The Hugh James deal underpins a £60 million development and hundreds of jobs during the construction and fit-out contracts.
"The teams on both sides have worked extremely hard to bring this project to fruition and now the deal is signed we very much look forward to welcoming Hugh James to Central Square."
The building is under construction with completion due in August 2018.
Property agent Rhys James of Cushman & Wakefield, who advised Rightacres, said: "The quality of the buildings at Central Square is reflective of the world-class design quality that developers like Rightacres are now bringing to the city. Hugh James taking new offices in this location proves that tenants demand outstanding design and the Council should be commended for encouraging developers to continually improve the architectural skyline of Cardiff".
Phil Bale, Leader of Cardiff City Council said, "Hugh James is an important employer in Cardiff and it is great news that they have come forward to play a key part in the continued success of Central Square."