At Hugh James, we support a number of worthy causes that link closely with the work we do. We carry out pro bono work, get involved in volunteering and fundraising for our HJ Heroes.
Angharad Phillips, Paralegal and future trainee at Hugh James shares her thoughts on volunteering with specialist brain injury charities:
As a member of the Neurolaw Department, who represent claimants and their families following traumatic brain injury and spinal cord injury, I am fortunate to be involved with two charities: Headway and The Silverlining Brain Injury Charity.
Headway are a UK wide organisation who help people affected by acquired brain injury to rebuild their lives.
They offer social groups, life skills sessions, counselling, family and carers support and an information and outreach service.
Before the pandemic, I volunteered with Headway Cardiff and South East Wales at their Independence and Wellbeing Centre at Rookwood Hospital for a half day session once a fortnight during the working week.
I attended induction and training sessions on understanding acquired brain injury, its consequences and the after care provided by Headway.
Each service user is allocated an action plan and care needs plan which focuses on independent living, wellbeing and life skills. My role was to support and enable service users. This was a most rewarding experience.
Since the pandemic, the Independence and Wellbeing Centre has been temporarily suspended, but Headway have offered walking/wheeling groups, weekly activity packs and provided regular welfare telephone calls to service users.
They have also hosted online fundraising events, for example their Big Christmas Online Quiz.
Headway's next online fundraising quiz is on Thursday 20 May 2021 at 7.00pm to mark Action for Brain Injury Week. So get your thinking hats on and click here to sign up.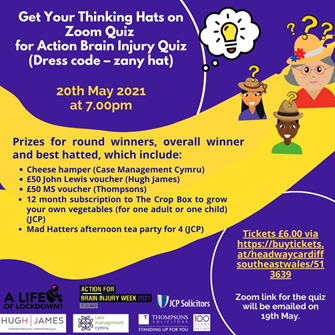 The Neurolaw Department is also participating in 'Hats for Headway' on Friday 21 May 2021 to raise the profile of Headway and the important work that they do. Check out the Hugh James website/social media on Friday for our fun photo!
The Silverlining Brain Injury Charity aim to improve the quality of life of those affected by brain injury.
They offer opportunities for those affected by brain injury (Silverliners) to get involved in events and activities in their local communities and beyond.
Before the pandemic, I attended the Wales Silverlining Group's monthly meetings which were hosted at our Cardiff office at Two Central Square.
I also attended events for example, The Silverlining Cymru Exhibition at The Hearth Gallery/Oriel Yr Aelwyd at Llandough Hospital and activities for example, skiing with the Silverliners and Ski4AllWales who provide adaptive ski sessions at Pembrey Country Park.
Since the pandemic, The Silverlining Brain Injury Charity have taken their monthly meetings and activity groups online, offering various classes in arts and crafts, cooking and sports, to name just a few.
As a result of the pandemic many people have been isolated and lonely and The Silverlining Brain Injury Charity have also launched a much needed initiative called Sunshine Calls which involves volunteers ringing service users for a chat once a week.
To be involved in this project is an honour. My colleagues and I have thoroughly enjoyed speaking with Silverliners from across the UK.
Hopefully this initiative will help those affected by brain injury with some of the challenges arising from the pandemic.