It's Road Safety Week and Hugh James is supporting its charity partner Brake, with its latest campaign; "Let's talk about speed".  Carlos Land, Senior Associate in the Serious Injury team takes a closer look…
Brake is a road safety charity working with communities and organisations across the UK to stop people being killed and injured on our roads, support those affected by road collisions and campaign for safer streets and mobility for everyone.
Each year, Brake campaigns for change and this year's Road Safety Week, running from 19 to 25 November 2023, focuses on speed.  The aim is to open a national conversation about speed, and our attitude towards it. Sadly, speed is one of the biggest killers on roads in the UK and Brake wants to change that.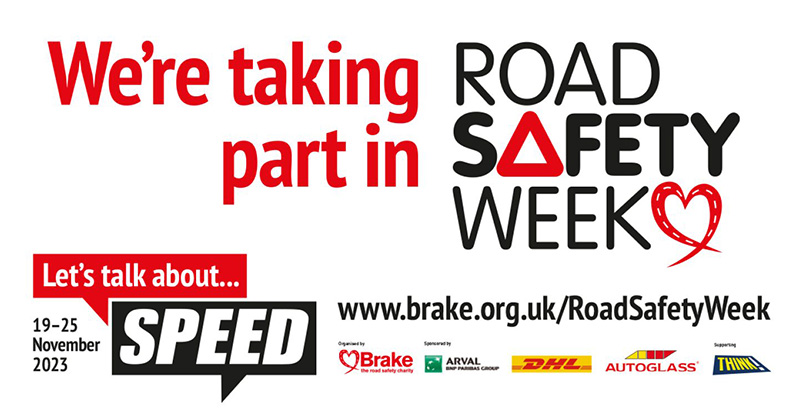 Brake highlights some startling statistics based on Government records over the last ten years.  On average there were 10,093 collisions, 3388 serious injuries and 345 fatalities per year where speed was a contributing factor. This equates to speed being a factor in approximately one out of every four fatal road traffic incidents in the UK.
Contrast this with the Department for Transport's estimate that in 2022 1990 people were killed or seriously injured due to a driver being over the drink-drive limit.  Whilst just one death in any circumstance is too many, this is much lower comparatively to those killed or seriously injured in collisions where speed was a factor; 3679.
Drink driving is socially stigmatised and unacceptable, however, speeding does not generally have the same negative social stigma attached to it.  Attitudes are beginning to change though and awareness weeks like this one provide the opportunity to start potentially difficult conversations about driving habits, the risks and the consequences.
In 2022 the RAC "Report On Motoring" showed that a staggering 48% of those surveyed admitted to exceeding the national speed limit. The main reason given was that people were travelling at the same speed as other motorists. Other common reasons were that they were rushing to get somewhere, were unaware of the speed limit or simply didn't notice that their speed had crept up.
Sound familiar? To help start the conversation, Brake has drawn up a list of questions…
Have you ever driven above the speed limit? Did you get caught? If so, what were the consequences? What advice would you give yourself as a driver now?
Why do we speed? Why do we think it's ok just this one time? Or on this road? What would you say to someone who crashed into you while speeding?
What stops us from speeding? Think of the times when you've found yourself speeding, what made you slow down?
What do we mean by speeding? Is it just over the limit? Or driving too fast for the road conditions?
If we speed because we want to get somewhere faster, is the increased risk worth it for the amount of time we actually save?
Do you see speeding as a crime? Do you think of yourself as a law-breaking criminal? How about if you consider that five people die on roads every day and one in four fatal crashes is caused by speed?
The National picture
Speed is high on the agenda currently across the UK.  Wales has recently introduced a 20mph speed limit on many residential roads. The Scottish Government is looking to implement a 20mph speed limit by 2025 and some local authorities throughout England have implemented 20mph zones and others are considering similar limits in certain areas.
The change in Wales has divided opinion with more than 430,000 signing a petition to rescind and remove the law. But the Welsh Government is unlikely to go back, stating that the reduction in the speed limit could result in 40% fewer collisions, saving up to ten lives per year and between 1200 and 2000 people avoiding injury.
There was some derision when the first drink drive limit was introduced in 1967 and over time it has become morally and socially unacceptable to drink and drive. Is it time to make speeding as socially unacceptable as drink driving?
Hugh James is dedicated to supporting clients and their families whose lives have been impacted by road traffic collisions resulting in serious injuries and fatalities. We are a member of Brake's legal panel and have signed up to Brake's Solicitor Code of Conduct for supporting road crash victims and work closely with the charity to provide specialist advice and support to users of its National Road Victim Service, which helps more than 1,000 victims a year.
More information about Road Safety Week can be found on the Brake website:
Take part in Road Safety Week | Brake
References:
Department for Transport (2023) Reported Road Casualties in Great Britain. RAS0701: Reported road collisions and casualties by severity, contributory factors and road user type, Great Britain, 10 years up to 2022
Department for Transport (2023) Reported road casualties Great Britain. RAS0704: Reported road collisions, casualties and vehicles where speed was a contributory factor by severity, Great Britain, 10 years up to 2022