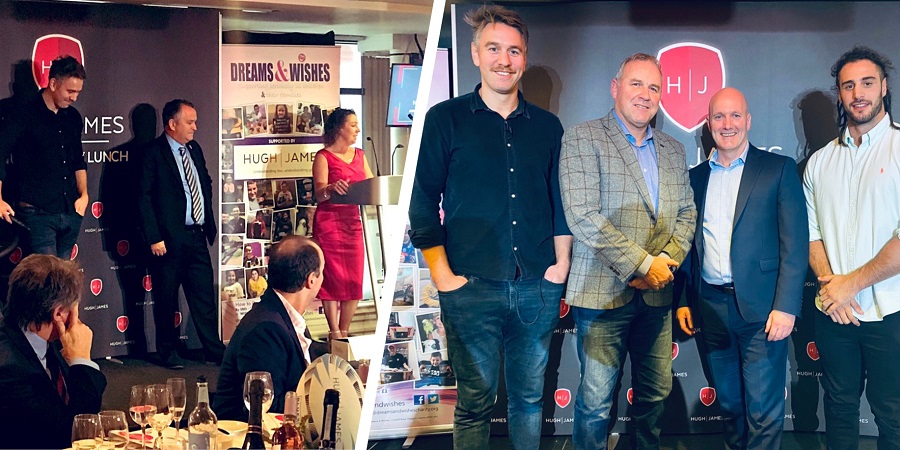 We are thrilled to announce that the Hugh James Rugby Lunch 2019 event raised £21,000 for one of the firm's nominated charities of the year, Dreams and Wishes.
Hugh James has been working with Dreams and Wishes for a number of years but nominated the charity as one of its main partners for 2019.
The rugby lunch, now in its 5th year, was attended by over 200 guests from across the business community in Wales and beyond, as well as representatives of the charity and stars of the rugby world.
Ryan Jones, former Wales rugby captain, hosted the event on 22 November 2019. Ryan interviewed new Wales head coach, Wayne Pivac, about his plans now he's in post, and guests also had some unique insight into the Rugby World Cup from expert Sean Holley and star of Wales' world cup campaign, Josh Navidi.
Alun Jones, managing partner at Hugh James, said:

"It was fantastic to see so many of our clients and business partners support our annual event. Everyone entered into the spirit of the day and helped us all to raise a fantastic sum of money for a wonderful charity. We are extremely grateful to all of the people who gave their time, prizes and donations to help us exceed our fundraising target. Most importantly though it was very important for our guests to hear about the work Dreams and Wishes does for young children in such difficult circumstances, and humbling to hear from the formidable mothers whose children are sadly no longer with us."
This fundraising from this event takes the total raised by the firm from Dreams and Wishes in 2019 to £30,000.
Head of Business Development and Marketing at Hugh James, Joe Purcell, said:

"When we decided to work with Dreams and Wishes at the beginning of the year we wanted to do more than just raise money. We wanted to help these incredible people spread the message of the great work they do to audiences who could provide support. To achieve this, we worked with the charity to create a video which provides some powerful insight into the work they do, the incredibly generous way they operate, and the strength of the families they support. We were proud to show this video at our rugby lunch and we hope it helped to further build the profile of what is a wonderful and very important charity."
You can view the video here: Watch – Dreams and Wishes video.
Speaking about the event Tony Curtis MBE, Chairman of Dreams and Wishes, said:

"These funds raised will make a huge difference in helping us create many dreams and wishes for families during a difficult time in their lives. The families often spend months, sometimes years, in hospital with their seriously ill children and our goal is to create special memories for them to share. Thank you to everyone who donated; Dreams and Wishes is very privileged to have such a fantastic company supporting our charity."
If you are interested in buying a table at next year's Hugh James Rugby Lunch please contact us for more information.