We have joined forces with NatWest to empower employees and cultivate talent through a new series of professional development workshops – kicking off with an "Empowering Women in Leadership" event in the plush surroundings of the firm's award-winning Two Central Square headquarters in Cardiff.
On Monday 11 October, the inaugural workshop welcomed colleagues from our offices in London, Manchester, Southampton and Plymouth, alongside 35 NatWest employees. Among the HJ attendees were women who have recently advanced into senior roles, as well as male and female representatives from our employee-led Gender Balance network and members of our talent management board.
The event represents one of several new initiatives delivered as part of the Hugh James Potential programme which has been set up to support the development and wellbeing of our colleagues right across the business. As women make up 67% percent of HJ's workforce, and 49% of our partners in the legal teams, the first event of its kind provides an important step in the firm's commitment to supporting female colleagues to develop their careers and overcome any workplace challenges or barriers to success.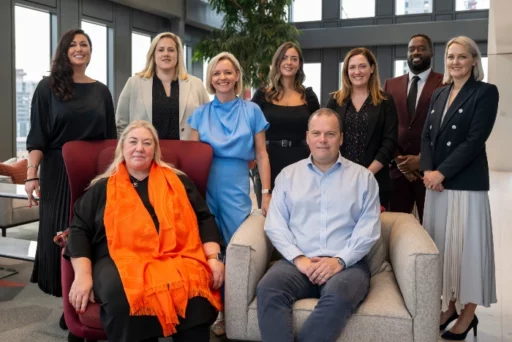 The event, co-hosted by Partners Kathryn Singh and Gwen Morgan-Evans from our talent management board, got off to an energetic start with a guest presentation from Wales Netball's CEO Vicki Sutton. Vicki led the event attendees through a seated netball challenge while sharing top tips for confidence and networking. This set the tone for a day of positive mindset, confidence and resilience training from NatWest's in-house trainers as well as an informative Q&A to address workplace challenges and the importance of a fair and inclusive culture with senior executives from NatWest.
Partner and EDI lead at Hugh James, Gwen Morgan-Evans commented:

"We want to grow a thriving and positive culture that is fair and inclusive, and that means supporting our staff to be their best selves when they come to work. The collaboration with NatWest has been a fantastic springboard on this journey, and really allowed us to better engage with our colleagues on a diverse range of topics and understand how we can best support them in the workplace."
Jessica Shipman, Director of NatWest, said:

"It's fantastic that Hugh James has such a deep rooted commitment to support the development of their people. Events like these are wonderful opportunities for people to take time for self-development. It was a pleasure to collaborate and have such wonderful feedback from the audience. I'm sure that everyone would have taken something from the event. The workshops were designed to help people understand themselves better and fuel confidence for the future."
In the coming weeks and months, the Hugh James and NatWest collaboration is set to deliver additional training and support across a range of topics including neurodiversity and cultural identity.