Colleagues from our Trusts and Estates Administration and Nursing Care teams spent a hot Sunday morning marshalling at Cancer Research UK's Race for Life event in Cardiff's Bute Park on 10 July 2022.
Eleanor Evans, Samantha Roberts, Jessica Forrester, Vashti Williamson, Lisa Morgan, Michelle Evans, Katie Morgan and Zoe Deabreu were stationed at different points around the 5km and 10km course. We ensured runners stayed on track, cheered them on, answered their questions, and handed out medals and water at the finish line!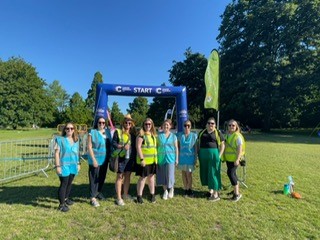 Congratulations to all the runners who completed the race in up to 28 degree heat and raised vital funds for the charity – including Hawys Davies, Olivia Stevens, Jessica Langan and Hannah Thomas from the Nursing Care team, who our marshals were able to support during the run.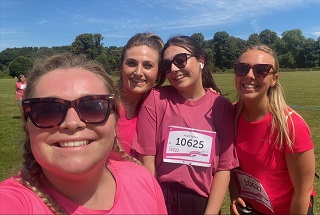 Our Private Wealth teams work regularly with charities' legacy officers, helping them secure legacies left in wills – a vital and growing source of fundraising income. Legacies to charities increased by over 11% in the last year and there is an increasing awareness of the benefits that come with leaving a legacy.
Volunteering at events like the Race for Life is a great chance for our teams to get together and have fun doing something completely different from our day jobs. It also gives us more insight into the planning and organisation needed when fundraising, and the sheer hard work put in by colleagues and volunteers working for charity. Pulling off an event like this is no mean feat – 5,008 participants took part in the race, with an amazing £228,701 raised for Cancer Research UK.