Approximately 2,500 people in the UK die each year from the terminal asbestos related disease mesothelioma.  To mark Action Mesothelioma Day this year on the 7 July, one family is taking the opportunity to speak out and raise awareness of the incurable disease.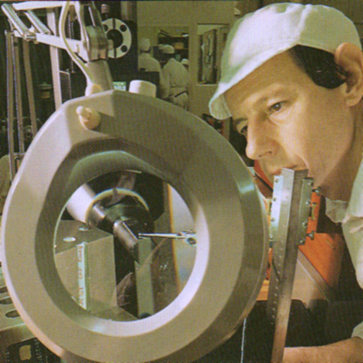 Malcolm Charles Hustin died in May 2023 having suffered with mesothelioma after being exposed to asbestos whilst working at the Ministry of Defence's Royal Ordnance Factory in Llanishen. He worked at the factory at a time when the dangers of asbestos were well known to the MOD.
Malcolm was a loyal employee and worked at the factory for over 30 years from 1964 until the factory closed in 1999. In 1993 he was even awarded the Imperial Service Medal in recognition of the meritorious services he had rendered. In his memoirs, Malcolm recalls receiving the award as one of the proudest days of his life.
Malcolm was first employed as a fitter at the Royal Ordnance Factory and later became an inspector. Asbestos was prevalent at the factory and was used during the production of various pieces of equipment. This type of work has been described as 'part and parcel' of a fitter's job bringing Malcolm into close contact with asbestos.
Malcolm sadly leaves behind his widow, and his two children. Malcolm and his wife had been married for over 50 years and had a wonderful life together.
Speaking of their dad's diagnosis, his children commented:

"We were devastated to learn of dad's diagnosis with mesothelioma. We were heartbroken when we realised that dad's illness had been caused from his exposure to asbestos at the Royal Ordnance Factory because this was a job he was so proud of. It is very upsetting that his exposure occurred at a time when the MOD knew about the dangers of exposure to asbestos and that dad's death was preventable".
Mesothelioma is a form of cancer that covers the outer surface of some of the body's organs. Most commonly the condition affects the lining of the lungs, although it can also affect the lining of the stomach or heart. The only known cause of the illness is exposure to asbestos dust.
Malcolm's family have instructed specialist asbestos lawyers at Hugh James, to investigate a claim against the MOD following Malcolm's tragic death.
Lucy Strong, Partner at Hugh James, commented:

"Unfortunately, because of the aggressive nature of mesothelioma, Malcolm passed away before Hugh James were instructed which means no witness evidence was taken from him. We would like to speak with anyone who previously worked at the Royal Ordnance Factory in Llanishen to gain a better understanding of how Malcolm came into contact with asbestos at the factory."
Sarah Morgan, Mesothelioma UK Senior Nurse Specialist and Project Lead for Wales, commented:

"Over 100 people are newly diagnosed with Mesothelioma each year in Wales, this rare cancer, caused in 94% of cases by exposure to asbestos, is continuing to increase especially in women and younger people.

"The legacy of asbestos is still very much with us today in Wales, we continue to pay a heavy price for our industrial past with many people exposed to asbestos in heavy industry and the latency period between the time of exposure to asbestos, and manifestation of symptoms, can potentially be up to 50 years. Despite the importation, supply and use of asbestos having been banned in the UK over 20 years ago, asbestos remains in the fabric of many of our public buildings, schools, hospitals, and homes built before 2000.

"Events such as Action Mesothelioma Day are crucially important to raise awareness of this devastating and incurable cancer, up to 60% of people die of Mesothelioma in their first year after diagnosis. However, new research and clinical trials, offer real hope for future management and with greater understanding and awareness of the disease we have great hope for the future.

"It is essential that the issues around asbestos exposure and its legacy for future generations is highlighted to governments and vitally important that improvements are made in the diagnosis, treatment, management, and care of those effected by Mesothelioma in Wales."