Hannah Bartley, Paralegal in our Military department, discusses the recent surge in veterans claiming state benefits.
A recent article in The Telegraph highlights the failings of the Government in providing support to veterans. In recent official figures published by the Ministry of Defence, the number of veterans claiming universal credit benefits jumped from 33,800 in April 2022 to 40,100 in August 2022. As the cost-of-living crisis continues to present economic uncertainty affecting unemployment and a rise in inflation it is to be expected, these numbers will almost certainly continue to rise throughout the coming months.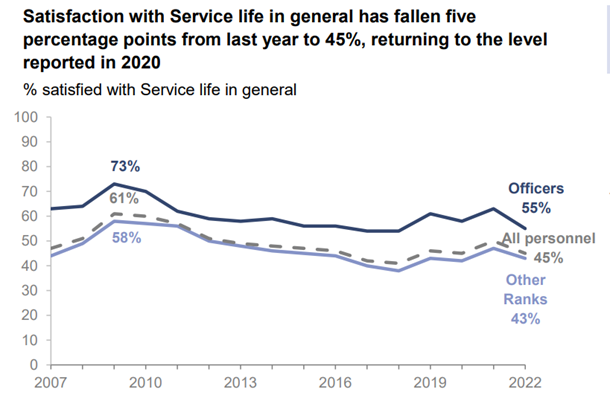 Shadow defence secretary John Healey has expressed concerns these figures may be the "tip of the iceberg" to veterans who have served for their country and Government ministers are forcing veterans to rely on universal credit in the current cost of living crisis. On the Choppers Politics Podcast Mr Healy has claimed the Government has "talked a lot and changed very little" in the support of veterans and that current Government support "just isn't good enough."
The increase in the number of people claiming benefits is not restricted to veterans; a staggering 3,200 serving members of the armed forces are currently claiming universal credit benefits. This number has also risen by 700 in just four months, according to official figures from the Ministry of Defence.
These numbers are also predicated on the Ministry of Defence receiving just 53% of responses from claimants; however, with 47% of responses missing, it is anticipated the actual number will be substantially higher. As of July 2022, there are 193,890 active military personnel and 1,853,112 veterans in the United Kingdom.
In a report by the Royal British Legion in 2021 entitled "The Deployment to Employment" it was found former forces personnel are less likely to be in full time or part-time work than the general population, and nearly twice as likely to be unemployed.
In 2019 it was announced there would be an additional £6 million increase in the Armed Forces Compensation Scheme (AFCS). Work and Pensions Secretary of State Thérèse Coffey stated the Government will "provide specialist, individual support to former service personnel and their families as they take the first steps to find a job and receive the financial support they are entitled to, helping them better readjust to civilian life."
The UK Regular Armed Forces Continuous Attitude Survey published by the Ministry of Defence in May 2022 shows satisfaction of service life has decreased to just 45% amongst serving personnel. The survey also shows that financial satisfaction rates with pay, and benefits have decreased by four percent this year. 41% of serving personnel believe the pay and benefits are 'fair' for their duties, a decrease of 5% from 2021.
The cost-of-living crisis is ultimately one of the main factors for this in addition to the public sector pay freeze limiting financial increases to personnel earning less than £24,000.
In response to Mr Healey's concerns, a Government spokesperson has given an assurance that Government support is available and the roll out of the veteran's identification card will assist and identify those in need of increased tailored support. The introduction of the Veterans identification card is to provide veterans with improved access to healthcare, housing, and charity services.
"Bespoke employment support is provided when leaving the armed forces in addition to the government providing tax relief to employers who hire veterans and guaranteed interviews for civil service positions."
At Hugh James, we support veterans suffering with Noise-Induced Hearing Loss, Non-Freezing Cold Injuries and Post-Traumatic Stress Disorder; liaising closely with veterans' charities.
If you are affected in any way, contact the following for support:
The Veterans Charity | United Kingdom | Veterans Charity
UK Armed Forces and military veterans charity | Help For Heroes