Armed Forces Week kicked off in Wales on Monday 20 June with a spectacular showcase of the vital support available to veterans and the wider Armed Forces community. The 'Forces of Change' veteran network event saw over 200 people flock to the Swansea.com stadium to access a one-stop-shop of advice and guidance. In all, 47 businesses, public services and community groups were on hand to provide information on areas such as health and wellbeing, employment, benefits, and legal advice.
The festival was organised by Swansea based radio stations The Wave and Greatest Hits Radio South Wales – part of Bauer Media, in conjunction with our team of specialist military solicitors and in partnership with Swansea City Football Club. It featured a top line up of inspirational guest speakers who are making a difference and driving change for Veterans, Service Leavers, and their families.
The first-ever Veterans' Commissioner for Wales, Colonel James Phillips, gave a keynote address – just weeks into his new role – along with Welsh Government Deputy Minister for Social Partnership, Hannah Blythyn.
The speaking line-up also included Victoria Williams from Veterans NHS Wales; Phil Jones of the Swansea Veterans Hub; Falklands Veteran and Cartoonist, Will Kevans; Deputy Commander of the Army in Wales Colonel Sion Walker, and Jonny Mercer MP.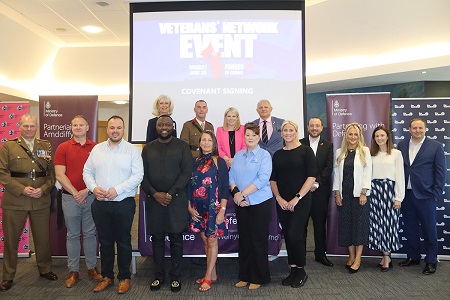 The event also saw a group signing of the Armed Forces Covenant, with five businesses pledging their commitment to supporting the Armed Forces Community and the principles of the Covenant in their organisations. They were Swansea City AFC Foundation; Hartson Fire; African Community Centre; Involve Logistics Limited; and Gower Gas and Oil (Heating Services) Limited.
Commenting on the event, Hannah Blythyn MS, Welsh Government Deputy Minister for Social Partnership said:
"Welsh Government is really proud of the work it's done to support veterans, whether that's in health, education and in the local community. But events like this are key to taking that support forward and building on it, by bringing together businesses, organisations, and veterans themselves to really showcase what there is to offer – and what veterans have to offer to continue to contribute to our communities and country as well."
Reflecting on the event taking place during Armed Forces Week, Colonel James Phillips, Veterans Commissioner for Wales, said:
"It's very poignant this year, with it being 40 years since the end of the Falklands campaign, and that has really raised the importance and profile of veterans again. To a certain extent, it has also brought memories and issues back to the front, which may have been kept bottled up for quite long time.

"So, in that way, having the support of the community around, which Armed Forces Day demonstrates, and an understanding of the Armed Forces community, which is engendered by the activities and events that Armed Forces Week provides, is really essential."
This was the third 'Forces of Change' event, which was first launched, in 2019. Last year, the occasion was forced to move online due to the pandemic.