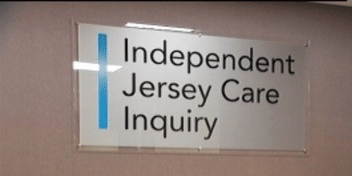 The Independent Jersey Care Inquiry (IJCI) will be publishing its long awaited report on the 3rd July 2017.
In order to understand the report and what we would hope that it contains, we need to look at the problem that the IJCI was tasked with investigating in the first place as well as the progress it has made so far.
The best way to understand the scope of the inquiry and the extent of the problems it has been investigating is to look at a timeline of events.
Timeline
2006: Child abuse begins to be investigated by the government.
Spring 2007: Simon Bellwood, a social worker from Haut de la Garenne children's home makes a formal complaint about the treatment of children at his place of work. He describes how children as young as 11 were being locked in solitary confinement for 24 hrs at a time.
November 2007: A wider police investigation looking into sexual abuse over the past several decades is publicly announced. This results in police moving into Haut de la Garenne to begin investigations.
February-July 2008: Operation Rectangle forensic teams conduct extended searches of Haut de la Garenne. This investigation uncovers what was initially publicized as a fragment of skull, but it was later proven to be nothing but a piece of a coconut shell. Human milk teeth were discovered but ruled to have been lost naturally. Three human bones were discovered but were later determined to be from prior to 1950, but could possibly be dated as long ag as 1470.
March 2008: Jimmy Savile sues The Sun for publishing a link between himself and the Haut de la Garenne childrens home. Saville claimed to never have been there. He later admitted to visiting the home in the 70's after pictures of him visiting children there surfaced.
August-September 2008: The investigation team changes significantly and the new team conducts a review of the investigation to date.
November 2008: The new head of the investigation, Deputy Chief Officer David Warcup, expresses his regret at the amount of misleading information that has been published in the investigation to date. He states that there is no evidence for many of the claims about the childrens home including reports of dead bodies, blood splatter, evidence of destruction of the bodies, secret underground chambers, metal shackles and so on. The controversy had drawn considerable international attention, and this in itself creates its own dynamic.
2009: The investigation has looked into over 100 claims of abuse although some are unable to result in criminal charges as they are not deemed severe enough. Despite public expectation that many charges would be made, only six files were given to prosecution lawyers. Only 3 of the six files were pursued by the prosecution although the legal team announced that there may still be others who would be charged. By this point, many former care leavers had come forward and given evidence to the States of Jersey police.
May-June 2009: Michael Aubin, a child from Haut de la Garenne, is tried and convicted of two counts of indecent assault on children under 10. He is sentenced to two year's probation on account of his time already served.
August 2009: Gordon Claude Wateridge is found guilty of 9 of the 20 charges brought against him for his actions as a house parent in the 70s. He is sentenced to 2 years of imprisonment.
February 2010: A married couple from Scotland named Tony and Morag Jordan are charged for their assault of children under their care while they worked at Haut de la Garenne in the 70s and 80s.
November 2010: Morag and Tony Jordan are convicted of 8 counts of abuse. The wife is given a 9 month sentence and the husband is given a 6 month sentence.
December 2010: Jersey's Chief Minister makes a formal apology to all who suffered abuse while under the care of the State. By this point a further two people had been successfully prosecuted for instances of child abuse. The Chief Minister promised to set up an inquiry to investigate any unanswered questions. This inquiry would come to be known as the IJCI.
March 2011: The States Assembly officially commissions the promised inquiry to look into questions left unanswered by the Project Rectangle investigation.
---
According to the IJCI website, the mandate given to the IJCI was quite broad ranging and included the following unresolved issues related to the historical abuse of children in Jersey:
What measures were taken to address inappropriate behaviour from staff when it was discovered, and if those measures were insufficient, what other measures should have been taken?
How did those in authority at political and officer level deal with problems that were brought to their attention?
Were there any mechanisms in operation to allow children to report their concerns in safety; and what action was taken if and when concerns were voiced?
Was a consistent and impartial approach taken when deciding on which cases to prosecute; and was the process free from political influence or interference at any level?
---
2012 the Historic Abuse Redress Scheme gets underway to compensate survivors of abuse.
March 2013: the mandate for the inquiry is established by the States Assembly and work begins on the selection process for the panel.
December 2013: The selection process for the panel of inquiry is completed, the members take their oath.
July 2014: The inquiry officially begins with opening statements and then begins to hear evidence.
July 2014-June 2017: The inquiry hears evidence from care home survivors, expert witnesses, care home workers, the police and government officials. In all there are 149 days spent in court coming to a conclusion on 22 June 2017.
23 June 2017: The IJCI announces that the results of the inquiry will be published on 3 July 2017 at 3pm.
I am hoping that the Independent Jersey Care Inquiry will address in its report the past but also the present and very importantly the future too.
I would like to read what the Inquiry believes the relevance of societal attitudes is on the issue of child protection? Some felt that it was not given the standing it warranted and so put vulnerable children at risk. If it's an on-going problem then we need to know what is going to be done to put this right?
I would also expect to read the Inquiry's opinion on the extent that government in its broadest sense has either aided or hindered child protection. Further I would want to see what recommendations have been made to ensure Jersey has a child protection system in place fit for the 21st century.